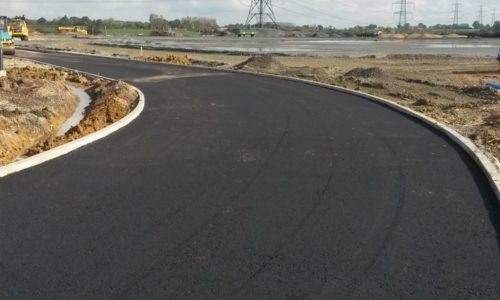 Dudgeon Wind Farm
Client
Carillion Network Services
Quantity
50,000 tonnes of Type 1 Aggregate
Cut to fill
Scope of Work
Cut and fill earthwork
Access roads and drainage topsoil strip
Aggregate supply
Overview
The Dudgeon Wind Farm Development off the North Norfolk Coast is being developed by a Joint Venture between Statoil and Statkraft two Norwegian Renewable Energy Companies.
The project reached financial close in the Spring of 2014. Statoil and Statkraft, awarded the 1st Phase Infrastructure Project to Carillion Network Services for the procurement of associated Infrastructure works at the site of the connection to the National Grid at Necton, adjacent the A47 Trunk Road.
After prequalification of suitable tire 2 Supply Chain Partners Barton Plant were selected to deliver the onsite works including Section 278 works on the A47 to be carried out at night. Access roads and drainage topsoil strip, cut and fill earthworks and infrastructure platforms and aggregate supply to support the offsite manufactured Services Modules for connecting the cabling to the National Grid.
Barton Plant were awarded a £2.70 million contract to deliver the works within a challenging 16 week programme during the Summer of 2014 for completion in October 2015.
The 16 week programme gave Barton Plant the challenge of sourcing 50,000 tonnes of Type 1 Aggregate in a location where major suppliers were unable to offer sufficient quantity in the timescale. Barton sourced the material from Norway, which was delivered through Stemma Aggregates by barge into Great Yarmouth and delivered by road along the A47 trunk Road.