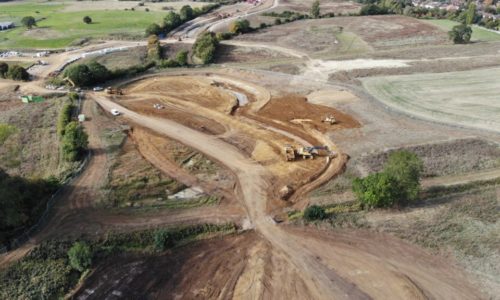 East Kettering Residential Site
Quantity
75,000 m2 earthworks for attenuation pond
2,000 metre perimeter drainage and herringbone drainage
Overview
Barton were contracted by Hanwood Park LLP to provide an earthwork and civils package to develop East Kettering residential site.
The 3-month contract saw 75,000 m2 bulk earth removal, storm drainage and associated head wall, manholes and 1200 ml of concrete pipe installation.
The bulk of earthworks for the attenuation pond, also involved Amroloc blocks for reservoir overflow and earthwork profiling for ditch courses.
Hanwood Park will contain up to 5,500 dwellings, a secondary school, up to 4 primary schools, open space (covering park(s) and play areas), employment areas, local centre facilities (e.g. shops and health care) and associated infrastructure.