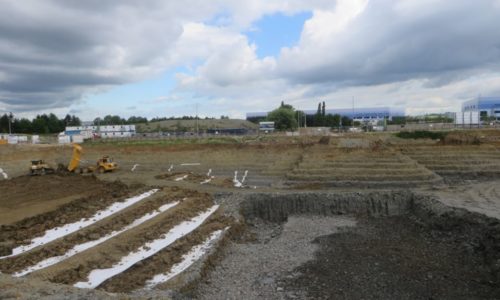 John Lewis distribution centre
Location
Magna Park, Milton Keynes
Quantity
210,000 m3 cut to fill excavation
40,000 tonnes granular sub-base type 1 fill
75,000 tonnes capping
Scope of Work
Cut / fill earth removal
Soil drying to enable the material to be compacted within it's window.
Overview
A hat-trick of development projects for John Lewis
Barton Plant continued to develop a strong working relationship with IDI Gazeley and main contractors McLaren Construction, providing the enabling work on a 3rd distribution warehouse for leading UK retailer John Lewis at Magna Park, Milton Keynes.
The project involved 210,000 m3 cut to fill earth moving with 40,000 tonnes of granular sub-base type 1 and 75,000 tonnes 6F5 capping from Wroxton quarry. All soils excavated from stockpile onsite had to be air dried before filling to extract excess moisture, which enabled the material to be laid in accordance with the compaction criteria in the Specification. We made use of two Wirtgen stabilisation machines to separate the soils and allow for faster drying. –
Since Magna Park's initial development in 2007, this contract marks the 5th project that Barton have provided the enabling earthworks for onsite. Our first contract for John Lewis was back in 2007, with a second in 2013 and now in 2015. We also provided the earth work for AG Bar in 2011/2012 alongside our largest single contract to date for Waitrose in 2014.
Being awarded the contract for the third time by IDI Gazeley for John Lewis is testament to Barton's proven history of economic and environmental efficiency. Barton are pleased to be working alongside IDI Gazeley again, building on a successful 25 year relationship.