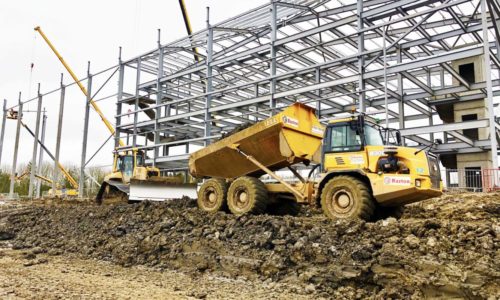 Nautilus
Location
Pendeen Crescent, Milton Keynes
Client
Readie Construction
Duration
14 weeks, extended
Quantity
13,700 m3 topsoil strip
52,700 m3 cut & fill
5000 m3 earth stockpile
8000 m3 type 1 Subbase
3000 m3 single size free draining aggregate
Overview
Barton were contracted by Readie Construction to provide an earthworks package at project Nautilus in Milton Keynes.
The 14 week contract included enabling works and earthworks; topsoil strip, cut & fill, earthwall installation and PVD drain installation.
Initial contracted works was extended to include attenuation tank excavation and import of type 1 material.
Scope of work:
Site strip and stockpile
Cut and fill
PVD band drains
Earthwall formation
Granular placement
Attenuation tank excavation
Resoiling to landscape areas
Surplus soil disposal