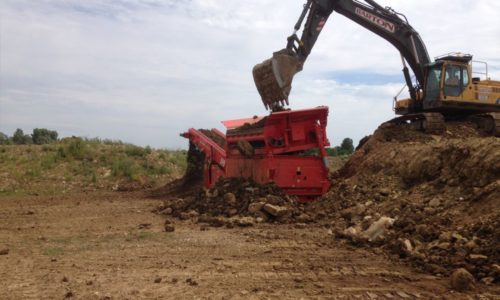 Rushden Lakes Northamptonshire – Phase 2
Location
Forme Ski – Slope and Lakes, Rushden
Client
McLaren Construction Ltd
Quantity
35 Acres of Site Remediation and Aggregate Supply to development Platforms for retail buildings and car-parks.
Overview
Client LXB Retail Properties received Planning Permission after a 2 year appeal process in June 2014. Barton Plant were originally contracted to take down the former Ski- Slope constructed of 33,000 m3 of aggregates to deposit in 33 one thousand m3 heaps for testing for suitability for reuse on the development.
Subsequently McLaren Construction on being appointed preferred contractor for the Scheme negotiated the on-going site development works with Barton Plant ahead of the main construction works being started in the Autumn of 2015.
Barton Plant were awarded a £2.50 million contract to re-cycle the previously dismantled Ski-Slope and the associated Site Infrastructure Works to clean all unsuitable material and remove from site and the preparation of the building footprints and associated car park platforms.
The 15 week programme, commenced on site in June and are progressing well ahead of programme for completion in September