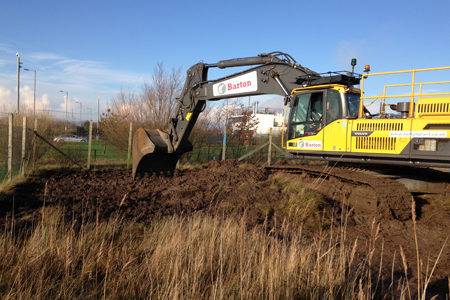 Speke
Value
£750,000 + (delivered on budget)
Duration
8 weeks (delivered on time)
Quantity
50,000 Cubic meters cut to fill all receiving lime/cement modification.
15,000 Tonnes of recycled Type1 import.
10,000 Tonnes of on-site crushing to produce Type 1.
Scope of Work
• Site Clearance. Removal of trees, vegetation and hedgerows.
• Break out and crush existing asphalt and concrete runways.
• Disposal of contaminated water from underground tanks.
• Cut/fill plot to designed levels.
• Lime/cement modify all works to achieve either 5%,15% or 30% CBR values.
• Crush and re-use hardstanding.
• Import and place Type1 stone to all areas.
Overview
The Eric Wright Group (EWG) are a new client to Barton; attracted by our value-engineered solution to the particular problems in the ground associated with the Speke site. Our solution combined cost effectiveness through stabilisation with a minimised contract working time.
The stabilisation interpretation, which was designed and implemented in-house, proved to be the best all round result; combining the maximisation of on site material use and the minimisation of material import. The time savings generated resulted in a reduced carbon footprint, together with substantial cost savings for the client.
Work on site progressed well despite the bad weather and all of the staged completions were met or bettered, enabling EWG to advance their programme.
Barton look forward to working with Eric Wright Group again in the future after a very successful first contract together.