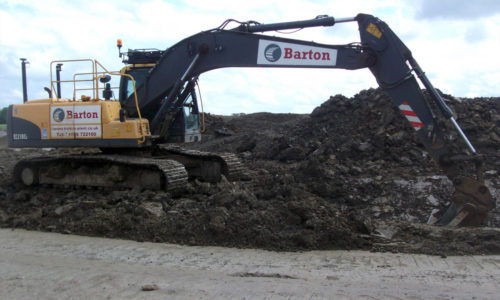 Waitrose, National distribution centre
Quantity
825,000m³ earth moved
100,000 tonnes of 6F5 import from Wroxton Quarry
54,000 tonnes of prime type1 from Bardon
Scope of Work
Earth moving, cut/fill plot to designed levels
Supply, spread and compact stone
Site clearance
Head walls
Overview
Something Special for Waitrose
Building on our continued strong relationship with Gazeley, we were contracted to work on what was our largest single contract to date, on the first ever national distribution centre for Waitrose in Magna Park, Milton Keynes.
Working alongside main contractors McLaren Construction, we were contracted to provide bulk earth removal of 1 million sqft development, handling 825,000 cubic metres of soil. The new distribution centre will be capable of distributing 25,000 grocery and home department lines nationally, in support of Waitrose ambitious plans for continued growth with the addition of 38 new stores in 2014 alone.
To complete work on site, four 460 Excavators, four D6 Crawler Dozers and ten 30T ADT's dug and moved the in situ earth and provide the base layer. The base layer was created utilising three D8 box scrapers and three BW216 rollers to lay 100,000 tonnes of 6F5 and 54,000 tonnes of Prime type1.